In 2021 we launched the icapps DNA, a set of skills and "features" we would like to see in each and every icapps colleague. So far, so good. All of our colleagues really nailed it, one-for-one they are so precious to our company, real assets, the most dedicated employees you can imagine. Since going that extra mile is very much appreciated, we wanted to start rewarding this. That's how we came up with the idea of the iAwards, the Oscars of icapps if you want. All of our colleagues got the chance to vote, so let's see who landed one of our precious iAwards

Without further ado, let's present to you the five winners of the 2021 iAwards

Teamplayer - Koen Van Looveren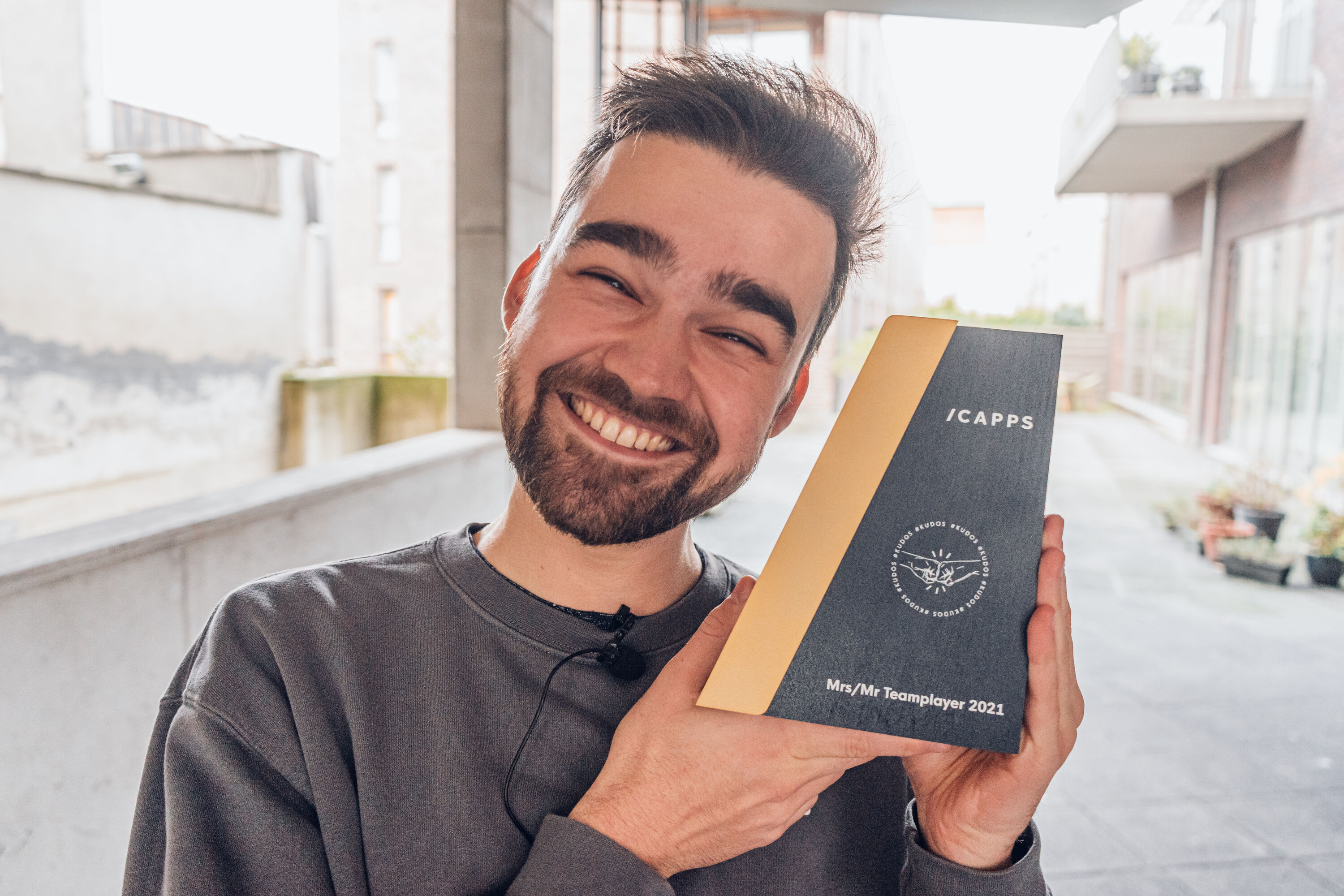 Teamplayer
We value the worth of a true team player. At icapps, we're all part of one big team, we communicate with respect, and like to give a "vuistje" from time to time. Our goal? Together we want to provide the greatest service, as a real team.
About Koen
Koen is one of our precious Flutter developers, he's been working at icapps since forever, or since 2017. In 2018 he introduced us all to the wonders of Flutter and made it easy for us to become pioneers in this technology. Other than being a great developer, Koen is the sweetest person alive.
Congrats Koen, what does this iAward mean to you?
I am super honored to be winning the Team player iAward. There is no project you can build on your own, so I highly value open communication and good collaboration at all times.
What are your key learnings from 2021?
No matter how great an app works or how good it looks, there will always be people who criticize your work. This always gives me the strength to work out improvements that we may not have thought of at first. So never allow feedback or criticism to demotivate you, turn it into an opportunity to learn from, to grow.
What award have you been dreaming of for a lifetime?
In my opinion, there is no better award to win than an iAward :D I think the iAward for most flexible icappser along with the team player iAward are the best ones you can win. Especially since these are centered around our projects, collaboration, and the delivery of these projects.
Who else would you like to congratulate on their work, personality, …?
Without a doubt; William! It's mind-blowing to see what he's doing for icapps, how fast he's growing, and what he represents is just wonderful, magnificent!

Flexible - Jens De Craecker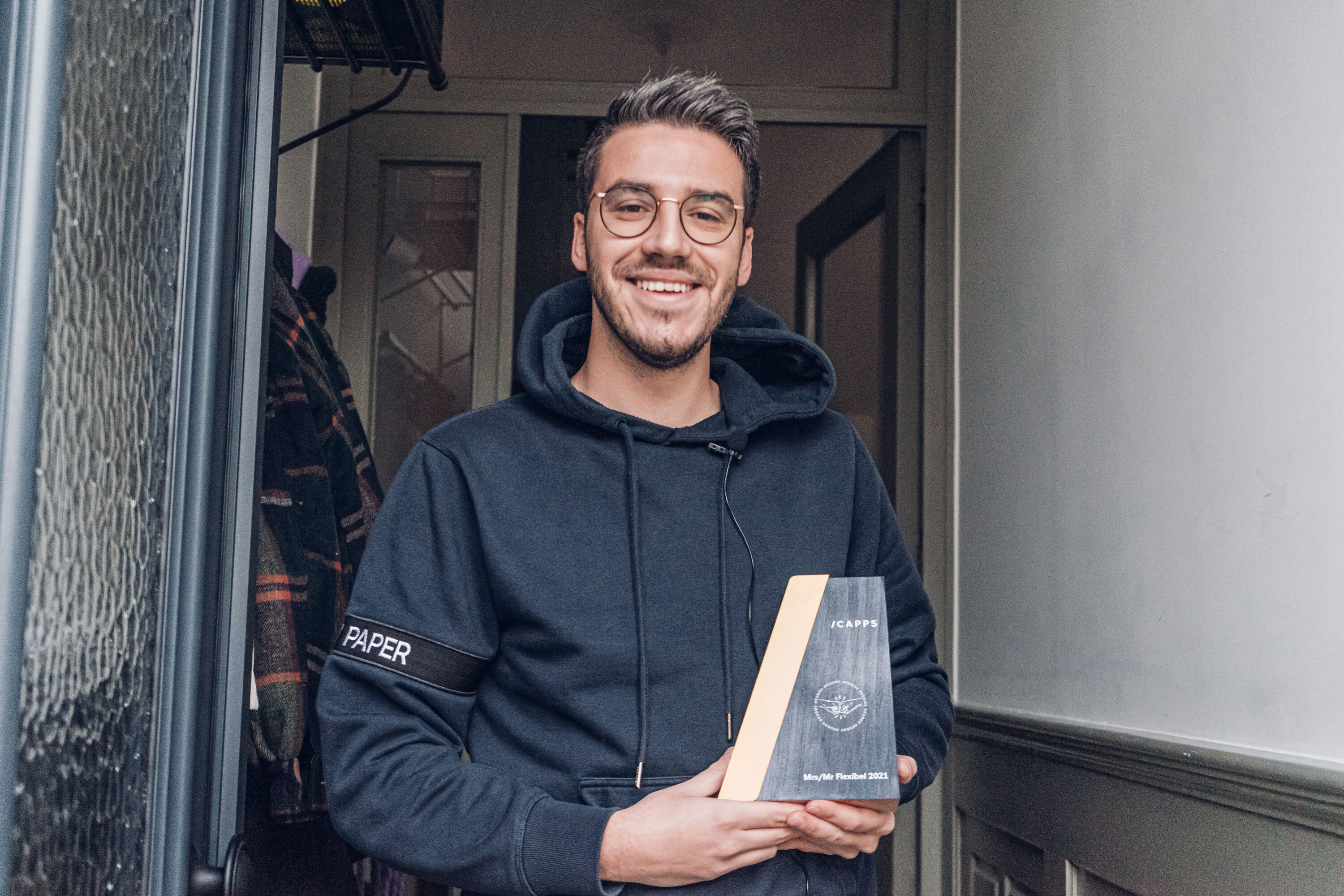 Flexible
Being flexible doesn't mean being available 24/7. We give our employees freedom and that freedom works both ways. We are flexible in terms of time, but certainly also in terms of our mindset. We live in a changing, challenging environment, technology never stands still, and neither do we. Change is in our DNA and change is inherent to icapps.
About Jens
Jens once started as an intern at icapps and, over the years, he grew into the all-round web developer he is today. He highly values team spirit and is eager to lend a hand whenever necessary. Jens is always in for a chat and likes to connect with everyone on the work floor.
Great job, Jens. What does winning this iAward mean to you?
I was very surprised to win this iAward. I always like to put other people first and it's great to see that others also value this, as a reward on its own.
What do you think of the new icapps DNA?
I really believe in the worth of defining a clear DNA for your company, and how it can resonate with all of our colleagues. It's both a handhold for current employees and a benchmark for new hires. It's great to see how everyone has a different mix of this DNA.
What have you learned in 2021?
That every team needs a good, old sticky layer of TEK 7. Open communication and social interaction have been top priorities in 2021, another year of (mostly) remote working. And the value of a good team became an even more important factor for both collaboration, well-being, and productivity.
If you could hand out a compliment, who would you give it to?
Not one specific colleague, I believe every icappser deserves a pat on the back, or even better, "een vuistje"!

Involved - Hannes Van den Berghe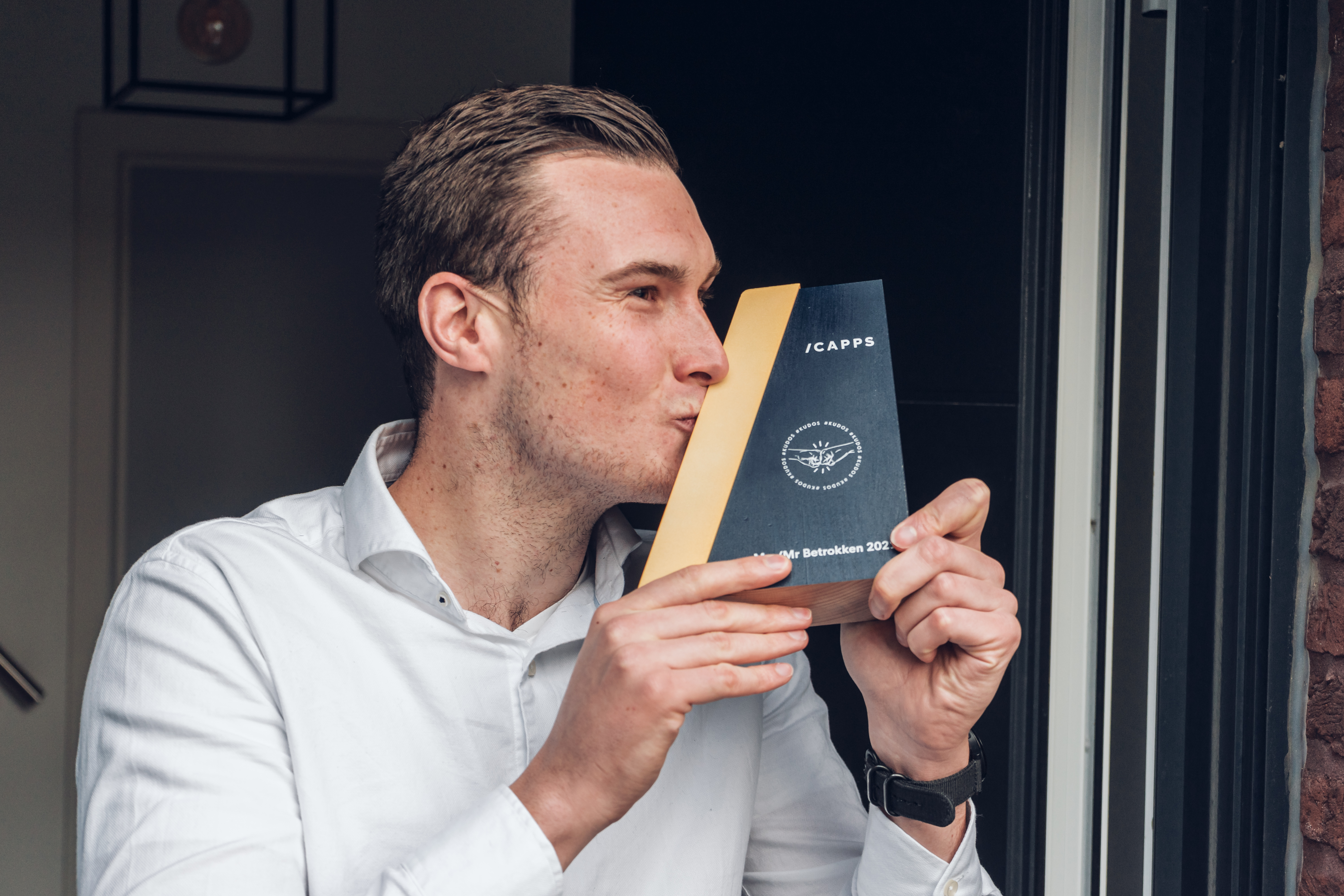 Involved
Involvement, that's that fine line between work and spare time, trying to find the right balance. Being proud of our products, going the extra mile for our customers, and watching over the quality of every product. We should simply be the biggest fans of our work, our colleagues, and our products.
Hannes
Hannes has been working at icapps since 2015, part of the household, some might say. He started as an iOS Developer, took a deep dive into the world of Flutter, and since last year, he took the next step toward Team lead. He's also part of our cycling club and organized our very first Tour de icapps, a contest that put a lot of colleagues back on their bikes and was received with great enthusiasm.
Congrats, Hannes! What does this iAward mean to you?
Winning this iAward makes me feel appreciated. It gives me the confirmation that I'm on the right track and that my involvement and opinion in different projects across icapps is more than welcome. A great feeling!
Do you think it is important for people to be recognized for their skills?
Absolutely! As I already mentioned, it's a big sign of appreciation, winning an iAward. But we don't have to wait to hand out compliments or recognition until the next award ceremony. Everyone likes a pat on the back from time to time, so how about we'll add that to our daily to-do list ;)
What's the biggest lesson from 2021 you're taking with you?
Teamwork makes the dream work. What we've accomplished over the past years, the projects we've made to be a success, these things are only possible thanks to the great level of collaboration within the whole company. Even in times of high pressure, we keep the humor and fun alive. I love that, the fact that we always manage to keep the spirits high.
Who would you like to thank for yet another crazy icapps year?
My team, Squad 42, Magda team, the team leads, family, and friends, … 2021 didn't spare us, it was yet another tough year, with lockdowns, quarantine, closed offices, … and yet we managed to get through it all together. Way to go!

Helpful - Pris Vluymans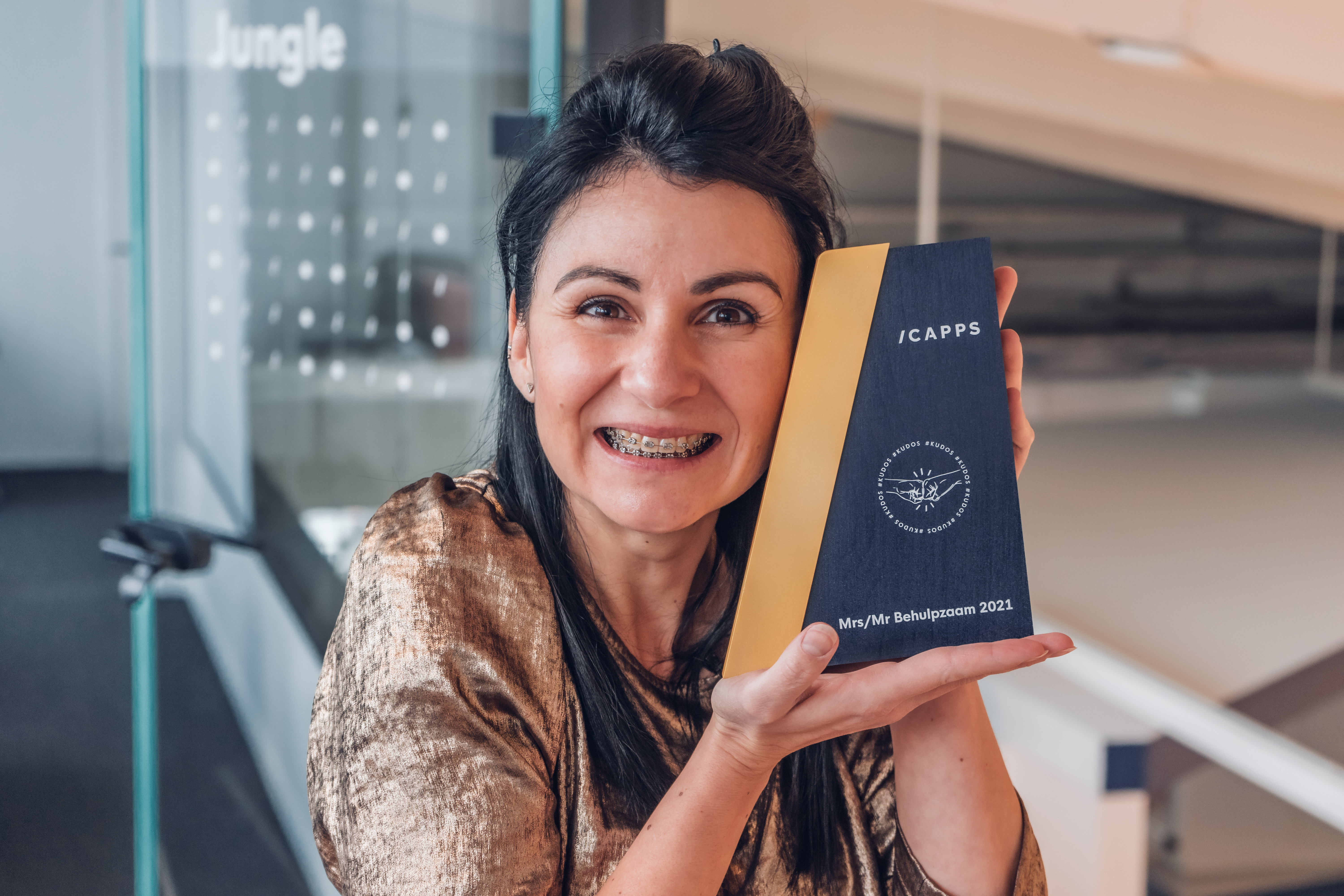 Helpful
We support each other, eager to give a pat on the back whenever needed and we're always happy to lend a hand, to help each other out. From fixing bugs together to unloading the dishwasher, we're all in this together.
Pris
Pris is the one you see when you step into icapps, and she instantly puts that big smile on all of our faces. She's our office manager, or even better, our Chief Happiness Officer. Continuously busy making the life of her colleagues easier.
Well done, Pris! What does this iAward resemble for you?
I switched jobs because my old job no longer gave me a feeling of fulfillment at the end of the day. When I started at icapps, I was super excited, thrilled to start my new adventure. And what an adventure it has been! I've received so much more than I asked for, icapps really puts the cherry on top of my day, every day. I do this job with all my heart, and I truly love every single one of my colleagues. So, you can only imagine how much this iAward means to me.
What do you take with you to the new year?
There are a few things I like to take with me, a few lessons I learned over the past years.
How happy we must be that we can just (go to) work every day.

Health is everything.

How much energy you can get from colleagues, family, and friends.
If you could win one other award, which one would that be?
The iAward for team player, because this is something I highly value and I still want to grow in my "team player skills".
Would you like to pay tribute to someone in particular?
Without a doubt, to Oli! Thanks so much for hiring me, I feel blessed every day.

Respectful - Hans van Dam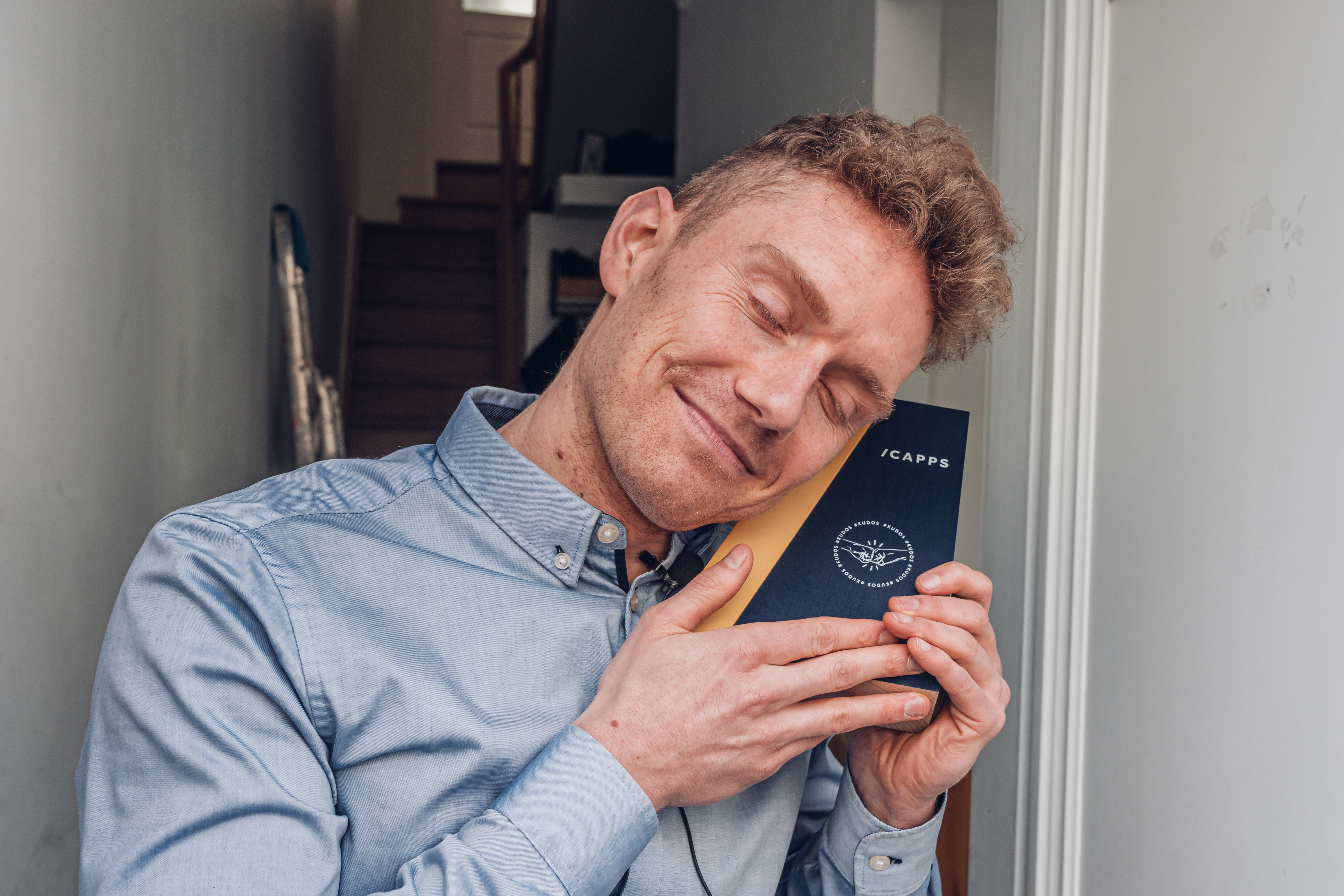 Respect
We see respect as a broad concept. Our icappsers have respect for each other, for their material, yes, even for the environment. We communicate, ventilate and recycle whenever possible. Just the obvious respect that we expect from everyone, that's what we're taking to the next level!
Hans
Hans is one of our team leads and our Chief Sustainability Officer, since last year. He joined icapps in 2019 and leads a cross-functional team of developers and designers. He gets energized by encouraging and enabling his team members to be the best version of themselves and challenges them to deliver top quality.
Kudos, Hans! What made you win this iAward?
Haha, beats me! The only reason I can imagine is that this year, I became the Chief Sustainability of icapps, which proves that I have a heart for both our planet and my fellow human beings. Don't be mistaken, I'm very honored to win this iAward because as a Team lead it's not always easy to balance out the needs of the customer and the team when making tough decisions. And I'm glad to hear, I take and communicate these decisions with respect.
What learning do you take with you in 2022?
Something I learned last year and want to apply more often; make time to take a break. Walk away from your screen from time to time. It gives you a moment to reflect, makes you take better decisions, and gives you the chance to communicate them most enjoyably.
If there's one award you'd kill for, which one would that be?
This one! Now that I've won this iAward, I can stop trying my best. Check.
What does the DNA of icapps mean to you?
I think a well-thought-out DNA is very broadly applicable within any company. icapps has a lot of different skills and functions in-house. So, the good definition of this DNA is more about the DNA of the person behind the employee than about what the DNA of a developer, designer, product owner, project manager, ... should be. So we searched for the common denominator in that person behind all those functions.
Who else would you like to compliment?
Pieter, I voted for him for this iAward. He's a very capable designer, who's able to give and receive feedback in a very respectful way. Impressive for such a young guy! So, kudos Pieter!