A pandemic can trigger your habits, it can cause a new way of thinking in different domains of your life, so it's only normal that this will influence the workplace as well. We started wondering, what if our employees created a new way of working during this pandemic? What if our current office doesn't answer their newly found needs? What if they need space to connect again, to co-create? Maybe these challenging times are the perfect opportunity to reinvent our office for the better. We decided to listen to our people, to the core of our company, and made plans to reinvent our icapps homebase.
What if?
So, you heard a lot of what if's. Let's just say it as it is, we can only guess what makes our employees happy until we reach out to them and ask. Since working from home is labeled as the "new normal" (how this expression gives me the creeps), we see a clear shift in how companies start to organize their offices. From fewer desks to smaller buildings, we hear a lot is going on these days. And we were trying to figure it all out as well.

But, here we go again, what if we have to redefine the balance between home and office days? What if our employees only want to come to the office if it adds value to their workday? We decided to get it over with the "what if's" and set up a survey to find out what's really on their mind.
We asked our employees how often they wanted to come to the office, why they would come to the office in the first place, and what's really important when they work here. Let's have a look at the results.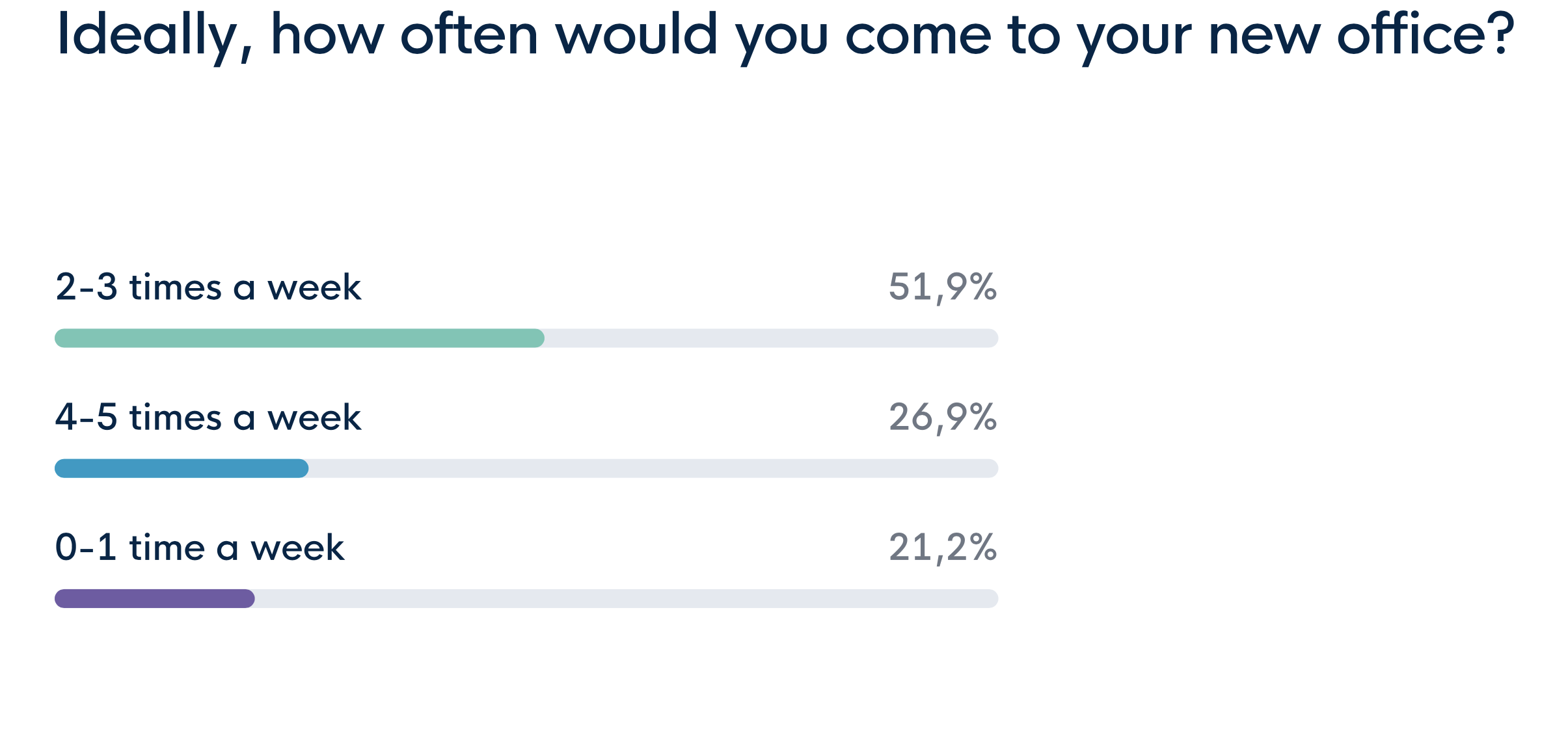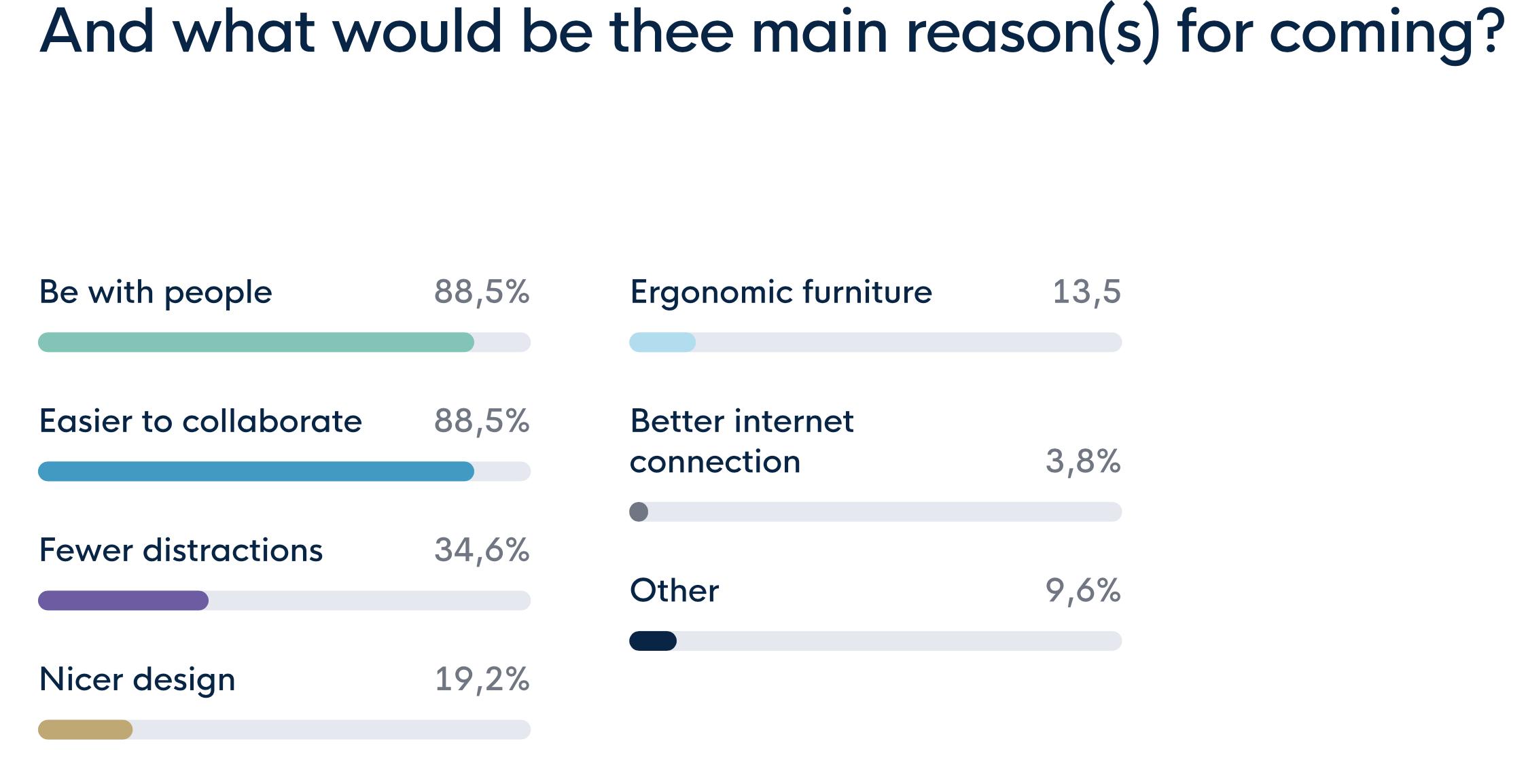 (No) headphones allowed
When we look at the answers to our "What if's", we can see a very clear trend. Our people still want to come to the office, preferably two to three times a week. Which sounds like the perfect balance between home and a real office. But more importantly, when they come to the office, they don't want to sit in a quiet corner with their headphones on all day. They want to work at the office to connect with their colleagues, to collaborate, to co-create, to lock themselves with their team in a meeting room to finally tackle that one issue, and of course for the joyful after-work drinks.
Other than that, they indicated to have fewer distractions when working at the office. No dirty dishes in the sink, no laundry lying around, no kids playing in the background. I bet you can imagine.

ssshhhttt before you enter
Although we designed our new office around collaboration, we still want to provide focus rooms where people can work in silence. Or the "headphones-allowed-zone", if you prefer. We can't expect everyone to come to the office to chat all day, and we feel like a lot of people still come to work to realize the distinction between home and work. Therefore we couldn't neglect the fact that sometimes you just need a place to sit in silence and focus on developing, writing, organizing your planning and budget. So no hard feelings when you enter the quiet zone.

W-A-W

Well, last but definitely not least. We want to create that WAHAW factor. When you enter our new office, you should feel overwhelmed by its vibes. Not only do our coworkers need to be stunned every time they set foot into their workplace, studies show that also applicants can make a decision partially based upon their potential new office. And, as you can imagine, that first impression is made in just the blink of an eye.
So, to please both our current and our new employees, we decided to give our office the nice update it deserves. Because, if we can create a smile on our people's faces, isn't that just the greatest thing? ;).

Have a last look at our current office. We bet you'll like the new one way better!